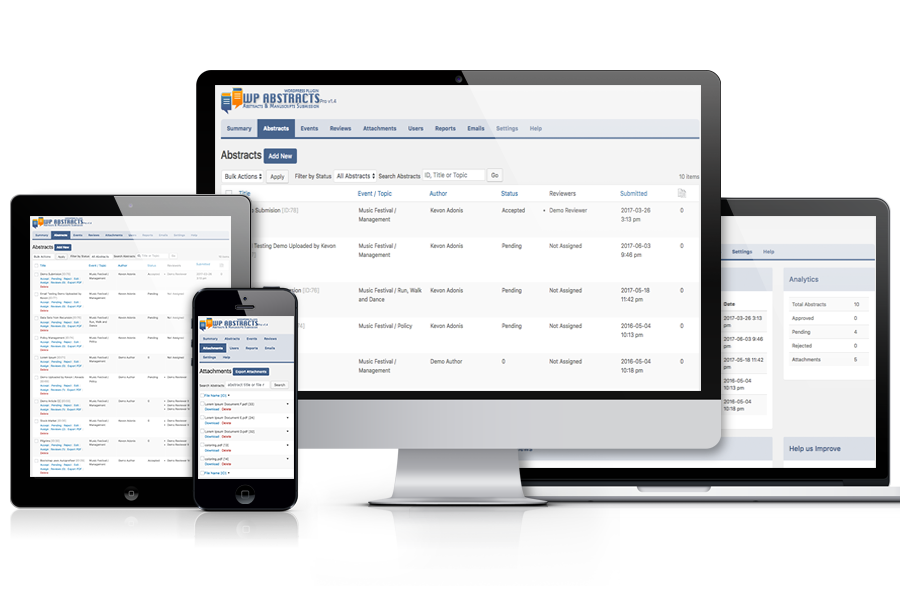 Unleash the full power of WP Abstracts with cutting edge features that makes managing your conference a whole lot easier.
Buy Now
Collect and Manage Abstracts
Allow users to submit Abstracts directly on your Wordpress site.
Control Users
Disable users from accessing the Wordpress admin dashboard.
Customizable Notifications
Customize email notifications for when an Abstract is submitted, assigned to a reviewer, approved or  rejected.
Blind Reviews
Enable or disable blind peer reviews. Show or hide reviewer comments to authors.
Collect and Manage Reviews
Assign up to 3 reviewers per abstract. Reviewers are automatically notified via email.
Frontend Dashboard
Offer an Abstracts submission portal fully separated from your Wordpress admin area.
Download Reports
Exports submissions and reviews as CSV (excel).
Unlimited Presenter Types
Set an unlimited amount of presenter types for authors and presenters to select.
Allow Unlimited Attachments
Upload unlimited attachments to abstracts. Control attachment types and max size from the settings area.
Export to PDF
Export submitted Abstracts to PDF with one click.
Fully Responsive
A fully responsive and intuitive user dashboard.
Security Captcha
Require users to enter a security code at login to avoid spam bots.
Frequently Asked Questions
Q: Do I have to create accounts for authors and reviewers?
A: Authors and reviewers need an account on your site to access the dashboard and take part in your conference. Users may self register on your website or the admin may create accounts for users and forward the credentials to the user. 
Q. I cannot find the registration area, how do authors or reviewers register?
A. The registration link (Create an Account) is located on the Login page. Authors and Reviewers may self-register on your website using the default WordPress signup process. To enable this, go to your WordPress Settings -> General tab and check the box that says "Any can Register".
Q. After signing in to the dashboard I see "You don't have permission to access this page". What's happening?
A. This error message is common when the user accessing the dashboard is not permitted. At the moment only two user types can access the dashboard; Authors which maps to the "Subscriber" user role and "Reviewers" which maps to the "Editor" user role. You may also see this message is you are visiting the front-end dashboard while currently signed in as the Administrator.
Q. How do I specify the types of abstract submissions (poster, panel etc) for my conference?
A. Simply go to WP Abstracts Settings Tab and enter the types you want to allow for presenters. Submission types are comma separated.
Q. When clicking "New Abstracts" I get the following message "Abstract submission for this event has past". What can I do?
A. This simply means that the deadline for your event has passed. If the event is still active simply go to the events tab in the admin area and extend the deadline date of the event.
Q. How do I setup Authors and Reviewers?
A. Authors are equivalent to Wordpress subscriber user role while reviewers are the editor user roles. Users may self register as authors and the site admin can then upgrade subscriber account to editor thus making that user a reviewer.
Q. How do I upgrade from the Free to the Pro version?
Upgrade from the free version to WP Abstracts Pro with three (3) simple steps.
Upload WP Abstracts Pro to your plugin folder.
Navigate to the plugin area in WordPress admin, deactivate the free version and activate WP Abstracts Pro.
Update the shortcode from [wpabstracts] to [wpabstract event_id=ID] where ID is the event ID from your Events Tab.
What Our Customers Are Saying
Don't just take it from us, let our customers do the talking!
I tested the whole plugin, and it is having all what i was looking for. Is perfect for abstract submission
The support is great and fast.
Thank you, you make my work more easier.
@ovidiu2014
Just the job for looking after abstract submissions for conferences to give your event and its contributors a professional image. I had a slight conflict with my WordPress theme but Kevon logged in to my site and fixed it. You don't often get this fabulous level of support. Thank You 
@goochy808
After a little bumpy start, and great support, this plug-in looks good, and functions well for authors and our conference academic and organising teams.
We'll certainly be using it for future conferences.
@liz-tunnecliffe